Horticultural Services :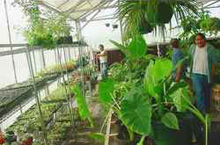 Being a renowned name in service provider industry we are also providing horticulture services in delhi and ncr. We are providing superior quality to our client with cost effective price. Our expert and skilled team members help us in providing quality garden development and maintenance. We provide horticulture services for various commercial as well as residential land areas. Horticulture is the science and art involved in the cultivation, propagation and processing of ornamental plants, flowers, turf, vegetables and fruits.

Our services included
» Top dressing and pruning of the plants
» Spraying of pesticides, fungicides and fertilizers at regular intervals
» Seasonal gardening advice
» Four season landscape clean-up
» General clean-up
» Specialty fertilization (Azaleas, Camellias, and Roses)
» Seasonal planting of flowers, bulbs
» Water feature clean-up and repair
» Night lighting repair and maintenance


We offer a large selection of trees, shrubs, annuals, and perennials all professionally grown at our nursery and greenhouse facilities. A well stocked houseplant inventory as well as spring and fall bulbs are also available. We strive to bring our customers new and innovative garden ornaments and gift items for all seasons and occasions. A colorful variety of Poinsettias, grown by our professional staff, fill our display house during the Christmas season. We also offer other seasonal favorites such as Christmas cactus, cyclamens, amaryllis, orchids and paper whites, evergreen wreaths, trees and outdoor winter arrangements. So when you think of gardening, think of Horticultural Services. Our friendly staff is here to help you and offer knowledgeable advice. We provide a wide range of gardening supplies to meet the needs of any landscape and gardening enthusiast.

Pest Control Services :
We undertake pest control services on annual contract basis or just one spot treatment at a very reasonable rate and the cost of our service is very negligeble when compared to the Losses / Damages by the pests.If you have a pest problem, you'd like it taken care of quickly so you can get on with life. A Sai Pest Control pledge is to do that with the least
hassle possible.
Garrison Services can provide a professional pest control service to cover both domestic and commercial premises. Technicians are able to carry out a wide range of different treatments for pests in and around domestic properties, these will include: Rats and mice, squirrels, rabbits, moles, birds, wasps, ants, cluster flies, fleas, moths, carpet beetles, and other crawling and flying insects. Baits and gels are used to control black ant infestations where the nest cannot be located and treated with an insecticide. Pest proofing, wasp nest removal, rodent baiting and electronic fly killers